Are you tired of entering your contact information into both Peachtree?/span> and Microsoft?/span> Outlook?/span>?
Now you can manage your contact information in Outlook and Peachtree using the PeachCOMM Contact Management Utility for Peachtree Complete Accounting. Automatically transfer customer, vendor and/or employee information as well as create new Outlook appointments with the click of a button. PeachCOMM will even create sales order confirmations via email to your customers at your command.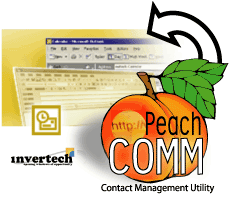 With PeachCOMM multiple copies of each sales order confirmation may be submitted without having to change the customer associated with the original sales order. Default information can be established for each confirmation message saving you time while standardizing each confirmation that is sent.
Automatically transfer Customer, Vendor and Employee information into Microsoft?/span> Outlook?/span>

Email your customers shipping confirmations on sales orders

Create new appointments in Outlook attaching specific starting and ending dates with reminder flags
For more information on PeachCOMM, contact Invertech Corporation at (513) 217-7915 or by email at sales@invertech-corp.com.
For use with Peachtree Complete Accounting
Versions 7, 8, 9, 2003 thru 2009
# Schedule a FREE Online Demonstration