"I would like to thank Invertech for a very speedy response to our request. Your company really is customer focused."
Bill Toft
Lawson Displays & Creative Design
"I believe Invertech Corp has provided the best support I've experienced with software.
Cindy Lee Culpepper
Western Shelter Systems

---
Technical Support Options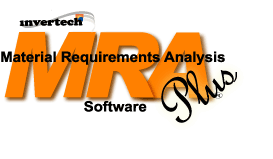 30 Day After Sale Support
In order to assist you get your Invertech MRA?/font> Plus software up and running as smoothly and quickly as possible, Invertech Corporation has included free support for 30 days after software shipment from Invertech. Our authorized technicians can assist you during the installation and set up phases to ensure your Invertech MRA?/font> Plus software is properly installed and configured in order to maximize performance. Click here to contact our support department.
Annual Support Agreement
Cost: 10% of software value
Support Incident
Cost: $50 per incident
Technical support will be available to all Invertech MRA?/font> Plus customers without a current Annual Support Agreement for a fee of $50 per incident. Training and educational services are not included in this annual support agreement and may be handled on a per incident basis.
Database Analysis and Repair
Cost:

$100 per hour

# Schedule a FREE Online Demonstration